Call us at (317) 893-9008
for a FREE quote on what we can pay you for your junk car or truck!
We are not affiliate with Pic-a-Part!

We want to buy your junk car or truck. We also buy running and wrecked cars and trucks. We will pay you top dollar. Many people want to know when a car is considered junk. Well the best way to determine if your car is junk or not is to evaluate if your car is worth more for its parts (including scrap steel) than it is as a whole car. On many cars we can pay you more than just current scrap price. We evaluate what the parts are worth too and in many cases can pay you a lot more than most junk car buyers in the Indianapolis area.


We will come out and inspect your car and make you a cash offer right there on the spot. There is no obligation on your end. Please have your title ready. if you accept our offer, we will pay you cash, have you sign over your title to us and then haul off your car. It really is that easy to sell us your old car. We make it simple. We service the Indianapolis area, but actually go much further than that. We gladly will come out to Carmel, Greenwood, Avon, Danville, Brownsburg, Greenfield, Whiteland, Franklin, Westfield, New Palestine and most surrounding areas. Give us a call. We would love to work with you.

Many people often ask what we do with the cars after we purchase them. We do many different things. Many of our cars are recycled and put back on the street and are able to give many more years of service to families that need them. Other cars are put into junk yards in the Indianapolis area and the used parts are recycled and used to keep other cars and trucks running for many years to come. A small number of the cars and trucks we get are good for nothing but the scrap metal. Those cars are crushed and recycled. We make sure that every usable part off of the cars is used.

Pick a Part Indianapolis has proven time and time again to be the junk yard that will not only pay you the most money for your junk, wrecked, old, running car or truck, but we also pay cash and we offer free towing when we purchase your junk car.

How does Pick a Part Indianapolis decide what to pay you for your junk car? There are several different factors that help us decide what we can pay you. First of all, it is the type of vehicle and what it weighs. Then, what we can do with the vehicle after we get it (can it be fixed and wholesaled, or will we sell used parts off of it, or will it just be crushed for the weight?). Also important is what cores are on the car? This includes things like the catalytic converter, starter, alternator, A/C compressor, radiator and things like that. When you call our professional estimators on the phone, they will ask you a few simple questions to determine a value on your car or truck. If you agree, then we set a time to come out and pay you cash for your vehicle and haul it off for free.

"Pick a Part came right out and bought my junk car. They paid me cash" Laura, Indianapolis


"Pick a Part has bought 3 different cars from me, 3 different times. Every time I called around to get the best price. Pick a Part was always the best price in the Indianapolis area" Clark, Indianapolis


"Thanks Pick A Part Indianapolis for coming right out and paying me cash for my junk car" Ron, Franklin


"Pick a Part sent out the nicest driver to pick up our junk car" Marty, Carmel


"Pick a Part Indianapolis actually came out to my house and paid cash for my junk car and towed it away for free. The best part is they were there on time, just like they said they would be" Bill, Indianapolis

Pick a Part Indianapolis is the junkyard of choice in the Indianapolis area if you are wanting to sell your junk car.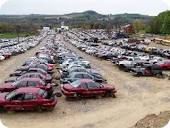 Pick a Part Indianapolis

Junk Yards Indianapolis



Indianapolis, Indiana
46227